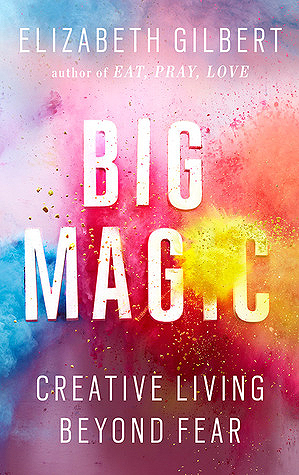 Big Magic: Creative Living Beyond Fear
by
Elizabeth Gilbert
My rating:
5 of 5 stars
This book was just what I needed to pull me out and get me to face what I should become - a disciplined half-ass! I tried it as an audiobook and Gilbert's voice sure made the book more personal. I felt like a friendly senior writer, who I often have coffee with in the college canteen, was chatting with me and passing on the wisdom.
The whole book is wrapped on that idea - to get you to intimately view the creative process and become acquainted with it; not demonise it into a warped depression-loving monster that many of us shape it into. I loved the anecdotes she had dispersed across the book - they made every point she made more relatable and instilled a "hey, I can do that!" kind of confidence within.
If you are a writer/artist/pursuer of any type of creative living, this is definitely a book you should listen/read. I highly recommend the audiobook, but I am sure reading this is going to be extremely pleasant, as well.
Overall, her book already got me to begin writing a few pages everyday and that loosely translates to the fact that the big magic is a fact! :)
View all my reviews